Member Area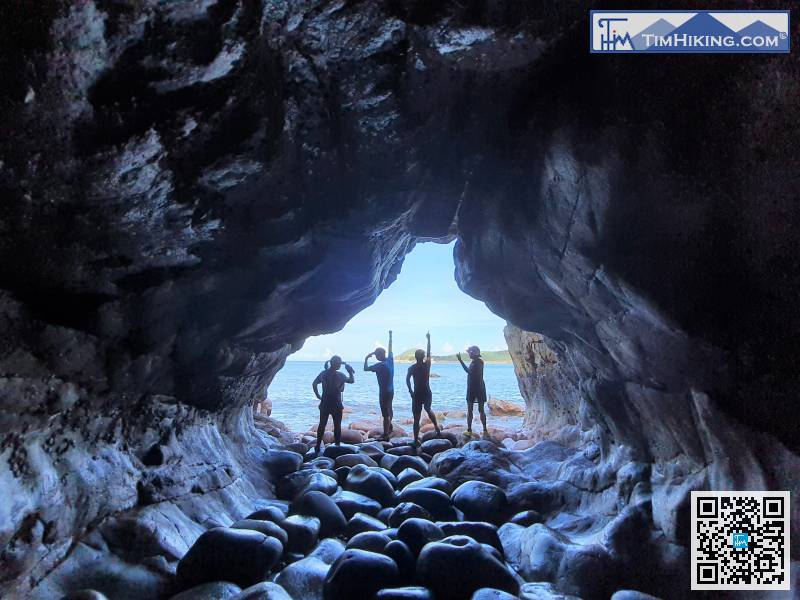 Mars Cave, Twist Cave
---
Mars Cave and Twist Cave are located on the coast of Ha Shan Tuk to the east of Clear Water Bay Peninsula, which is also to the south of Sai Kung Clear Water Bay Second Beach. There are mainly four well-known sea caves along the coast of Ha Shan Tuk, all of which have been eroded by seawater for billions of years. From north to south are Ha Shan Tuk Tai Cave (Mars Cave), Ha Shan Tuk Siu Cave, Ha Shan Tuk Foo Cave, and Ha Shan Tuk Chik Cave (Twist Cave). The most difficult to go is Mars Cave and the easiest to go is Twist Cave. Mars Cave is chestnut shaped, with a large space. The characterize of Mars Cave is the oversized pebbles at the bottom of the cave, which resembles a pile of alien eggs. The Chart Datum level for going to Mars Cave is very high. Even if the Chart Datum level is below 0.6 meters, the water depth is almost waist-deep, you must be wet and edge climbing. Twist Cave has a straight twisted pattern, the space is narrow, and the surface of the cave wall is very smooth. The Chart Datum level to go to Twist Cave is relatively low. When the Chart Datum level is below 0.8 meters, you can basically walk there without getting your feet wet. For the data of Chart Datum, please refer to the Hong Kong Observatory 【Tide Forecast】.
---
This Hiking Route is currently a draft and has not been published.
Members can Priority for viewing, please login.
Thy word is a lamp unto my feet, and a light unto my path.

Psalms 119:105