Member Area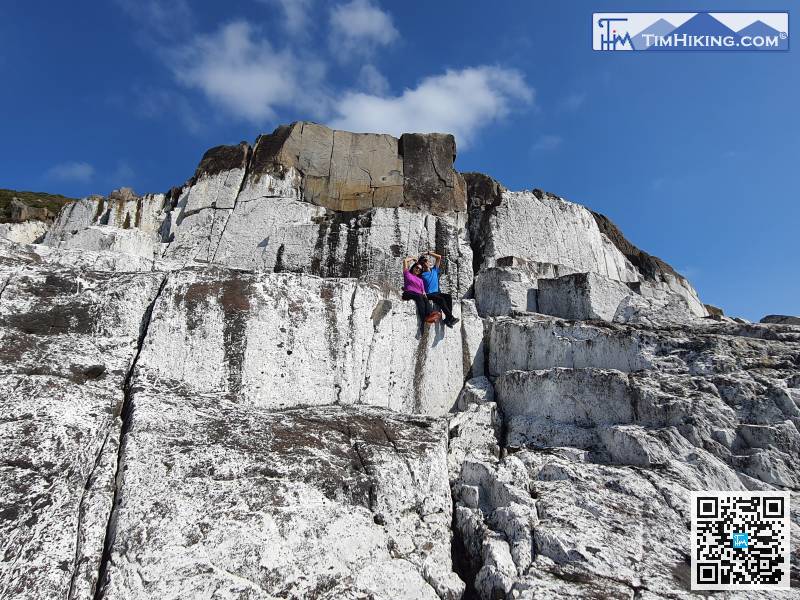 Tung Lung Chau White Cliff
---
Tung Lung Island is also known as Tung Lung Chau, the ancient name is Nam Tong Island. Its north is Joss House Bay, and its opposite shore is Clear Water Bay peninsula; and its west is Nantang Strait, the other side of the strait is Hong Kong Island. In the centre of Tung Lung Chau, there is a small mountain peak at an altitude of 232 meters, named Nam Tong Teng and it has a Trigonometrical Station on the top. To the east of Nam Tong Teng, there is another taller and unnamed mountain, right at the location of Tung Lung Chau Navigation Station, at an altitude of 250 meters. Tung Lung Chau has a square shape and pleasant scenery. Its area is ​​2.42 square kilometres, which is only slightly smaller than Cheung Chau's 2.46 square kilometres. Hikers can travel around Tung Lung Chau, the distance is about 8km. Most of the trails are concrete roads with clear trails, and only a few are rugged dirt trails. Nam Tong Mei is located to the south of Tung Lung Chau, facing the South China Sea. There is a large White Cliff on the shore, which is like an ice world. It is artificially painted, and it is assistance of navigation. Tung Lung Chau is a weekend camping hotspot. The east coast is especially full of cliffs and there are many rock climbing activities during the weekend. There are also many historical sites on the island, such as Tung Lung Chau Rock Carving, Tung Lung Fort, etc. However, the Kaito to Tung Lung Chau is a special route and only operates on Saturdays, Sundays and public holidays. To get a glimpse of this tranquil island, must plan the itinerary and ferry schedule in advance. Tung Lung Chau Kaito is currently operated by 【Coral Sea Ferry Service Company】 and 【Leung Kee Kaito】. The Coral Sea has four schedules between Lei Yue Mun Sam Ka Tsuen and Tung Lung Chau in the morning at 08:20/09:25/10:40/11:50. From Yau Tong Station to Sam Ka Tsuen Pier, it takes about 10 minutes and the Kaito journey is about 30 minutes. Tourists can also take a Kaito from Sai Wan Ho Pier to Sam Ka Tsuen Pier and then transfer to the Tung Lung Chau route. Leung Kee has four schedules between Sai Wan Ho and Tung Lung Chau in the morning at 09:00/09:45/10:30/11:15. The special feature of Leung Kee is that it provides services for cruising and fishing not to go ashore. For details, please visit the Leung Kee website.
---
This Hiking Route is currently a draft and has not been published.
Members can Priority for viewing, please login.
Recompense to no man evil for evil. Provide things honest in the sight of all men.

Romans 12:17